Bangkok looked like a better Manila, a Manila that could be. It didn't take too long for this to sink in last Saturday morning, navigating the streets, in the muggy heat, sharply contrasting with the sub 10 degree weather in Shanghai, where I was at just the night before.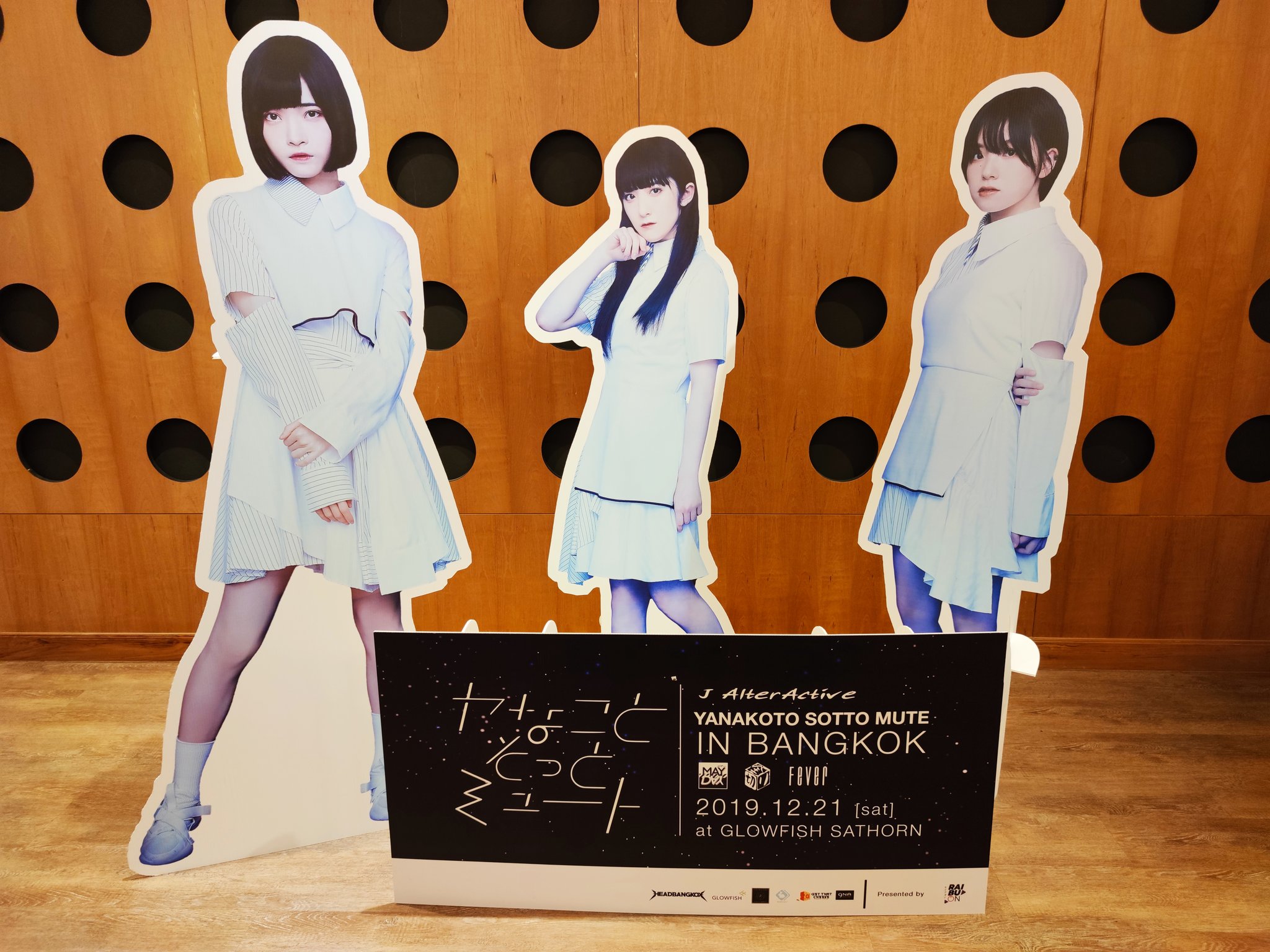 I was here for a concert for Japanese idol rock group Yanakoto Sotto Mute. I've started following them a few years ago, when I was more than eager to discover more acts in the 'alternative idol' space. They've eventually taken the position of being the best out there for me. When an overseas concert in Thailand was announced, I was in. When Japanese idol groups do this, there's bound to be a smaller, a more intimate crowd setting. Plus, there was no visa caveat in it for me.
There's almost always a compromise with idol rock. With Yanamyu, another name they go by, there's hardly any. It was shocking to hear how much guitar work reminiscent of late 90s, to early 2000s modern rock there is, chiseled in such a compelling sonic form. All sung by idols, but not in the usual idol way. They don't seem to be all too different from the other groups in the scene. As a fan from faraway though, they are quite unique to me. Their musical output is just notches above their contemporaries.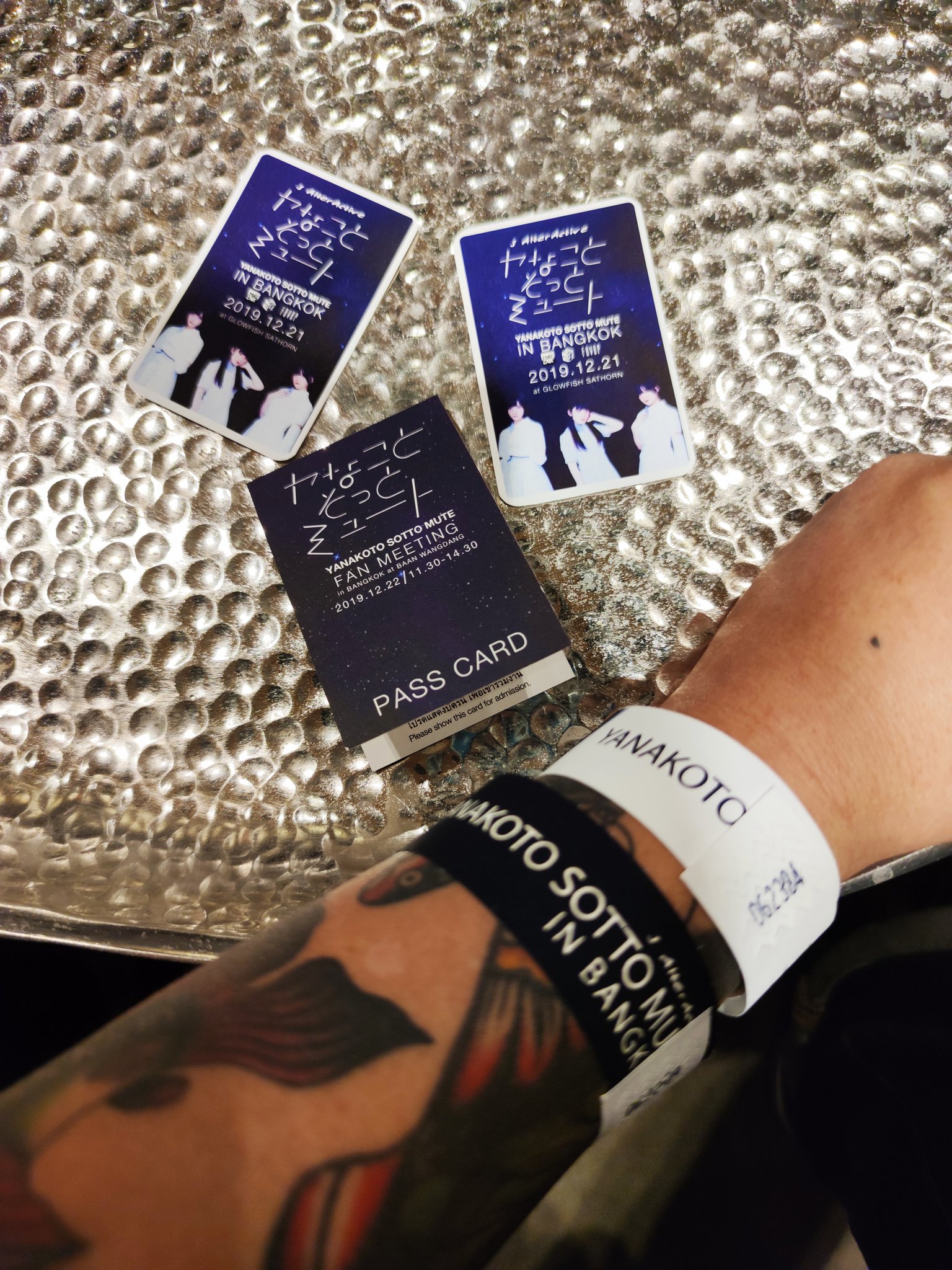 I was early at the concert venue. I got my two ticket wristbands, and another pass for the next day's fanmeet. I hadn't needed caffeine to prop myself up from lack of sleep. Venue doors open, and I am in front row, off center, to the right, where I usually am in most gigs. I had my camera with me, but decided to keep it in the bag. I'm not from here. I don't know how strict they are here.
Local idol groups MAYDAY and ZENKIRI started the morning show. MAYDAY covered BiSH songs, ZENKIRI wouldn't be an off-fit at a chika (underground) idol festival in Japan.
Yanamyu's turn started with their usual overture, when they used to dance like fairies hovering over a flowerbed. We didn't have that. Then, the opening guitar riffs if Lily was heard. This was it. I dearly wished there was a live band, but it doesn't matter anymore. It shouldn't. This group, I've had their CD's, their live DVD imported, treasured each item, and devoured the content with unbridled enthusiasm. I don't know the fan chants to sync myself to the crowd energy. I can't coordinate the hand movements along to the chorus. Again, it really doesn't matter.
Then, they did Kanaderuha.
See, that song was from their first release, some three years ago. It was a free download people linked to on my Twiter feed, and around that time, that feed already had plenty of idol fans. I still have those old files, the song tags were not set for a computer that didn't have a Japanese language pack installed. I still remember that first listen, how I was hunched over my small apartment's kitchen top, in absolute disbelief how songs like this can exist, in the small, niche world of idol I got myself into. It was a sound that summons my younger self. It was a sound I didn't think was possible for idol, but I'm ultimately joyful that it is real.
Three more songs, and Yanamyu's set was over. Stain was in that list, which had no choreography. Nadeshiko, the lead vocal, was just THERE, in front of me, the entire song. I snuck in a few phone photos, because this was short of incredible.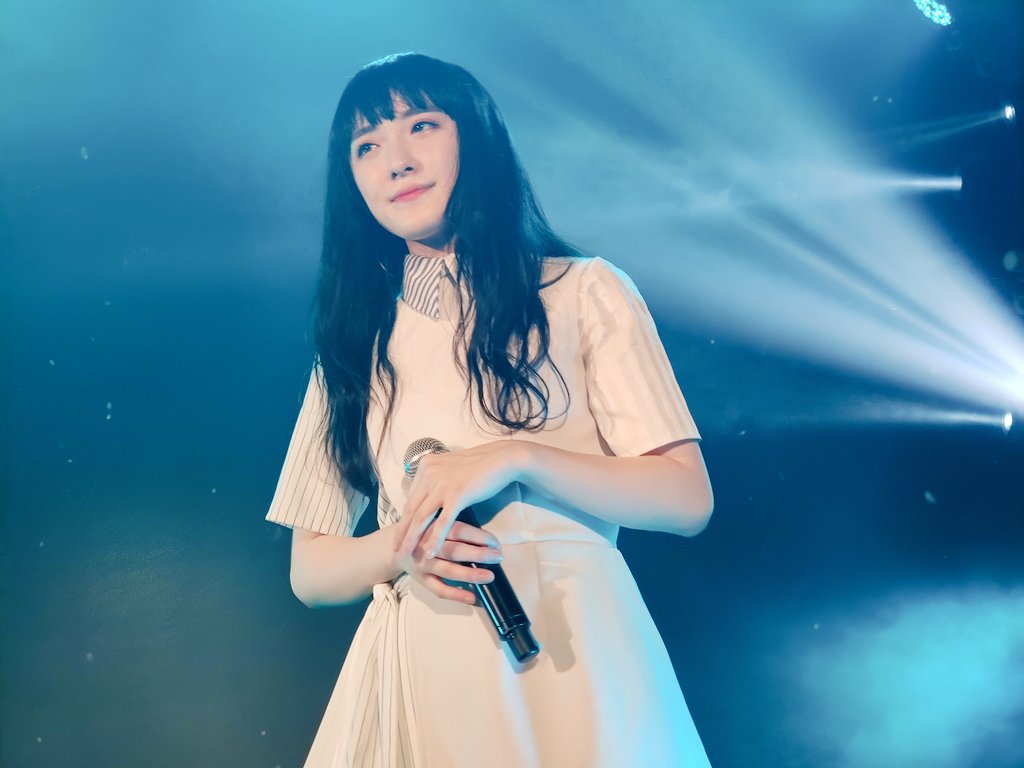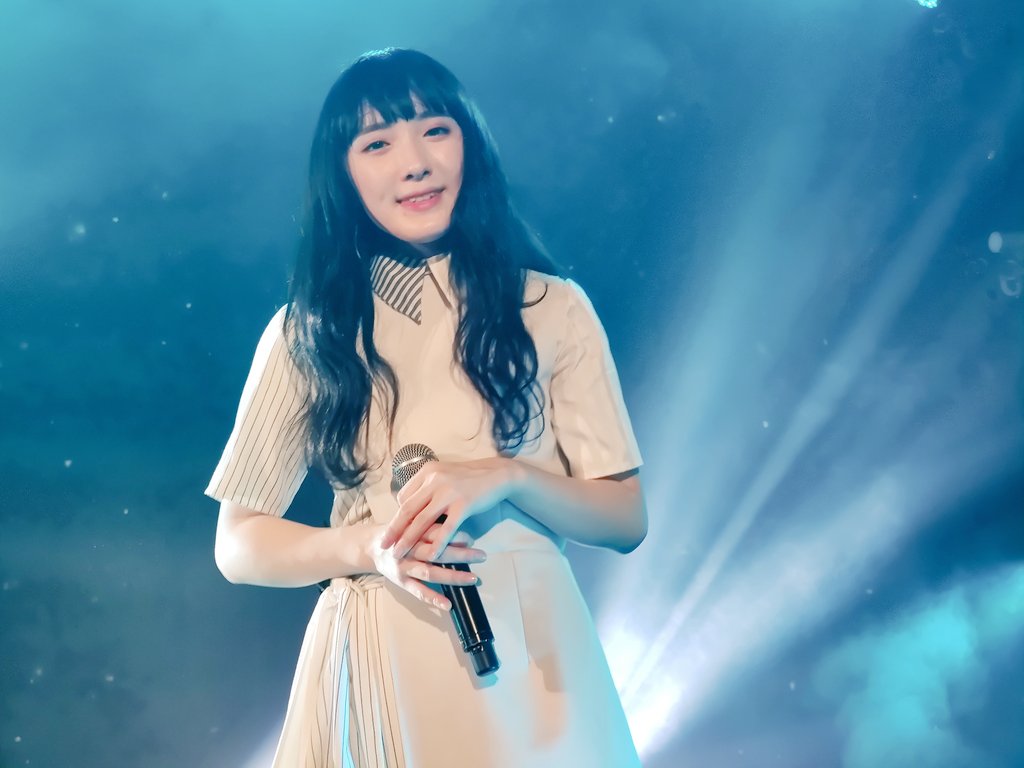 The last group was FEVER. The emotions I had from finally seeing Yanamyu has not at all died down, but as FEVER dove into their blend of cool, saccharine citypop, I just got all confused, elated, shocked. This can't be!
No, I'm not about to de-rail my story though.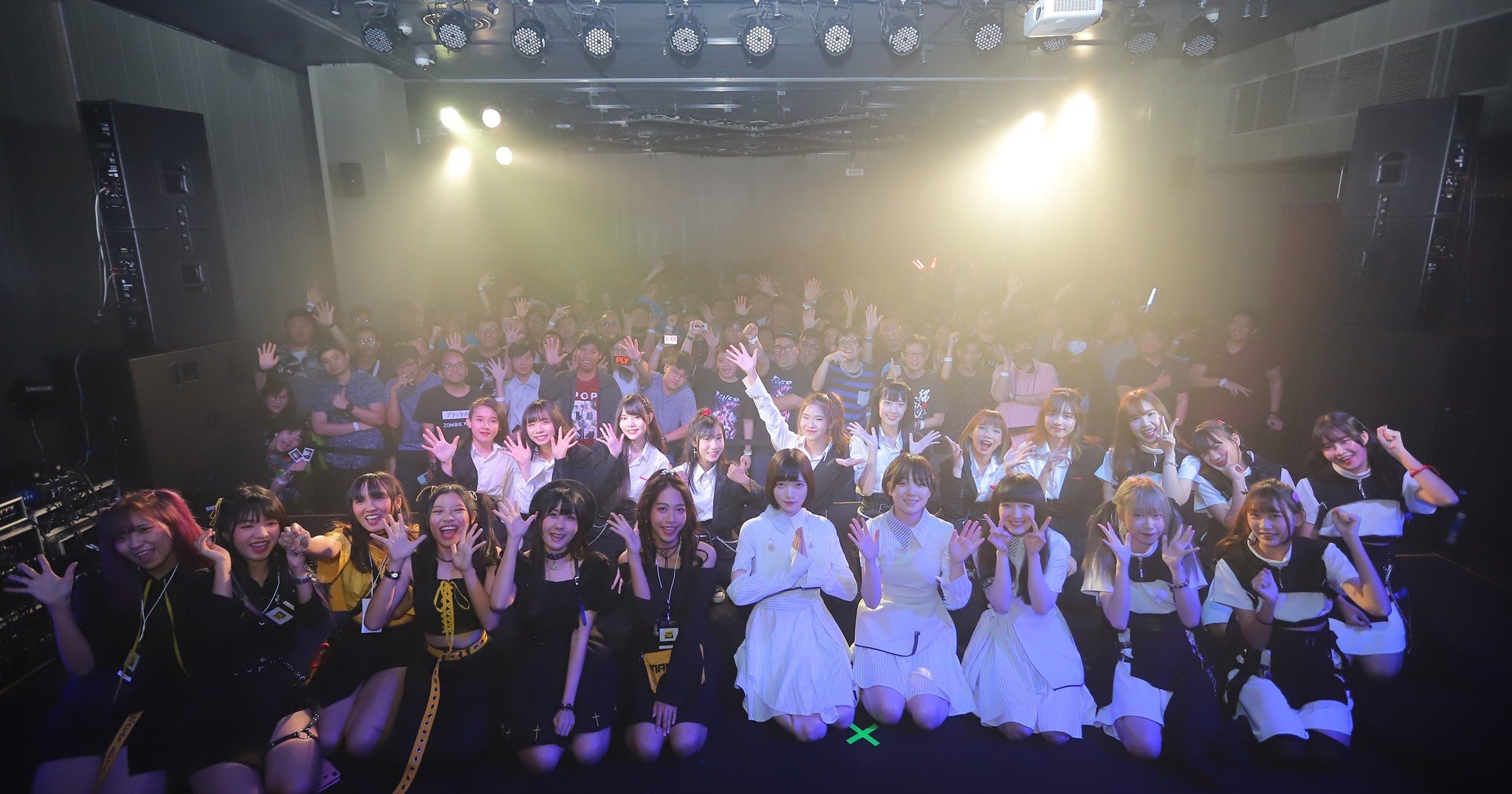 After the show, a birthday cake was presented to Nadeshiko, Nade-chan, who will turn 23 in a few days. The merch table was then set up. I could not fit all my purchases in my bag. I didn't feel the need to convert currencies, be mindful too much of money.
As with most idol events, I purchased tickets to have photos with the group members. We were given guitar picks to hand over. I went straight over to Nade-chan, and she recognized the shirt I wore (of VMO/Violent Magic Orchestra, a Japanese black metal techno noise outfit I saw a week prior to the trip, back in Shanghai).
Do you like black metal? I said yes.
Do you like idol? I said yes, and that Yanamyu was my #1.
My turns with Mani, and Ichika, the other members, were not as eventful, but Nade-chan was my favorite, so all is well. Such pretty eyes. They all did greet me in Thai first, and I had to tell them where I'm actually from.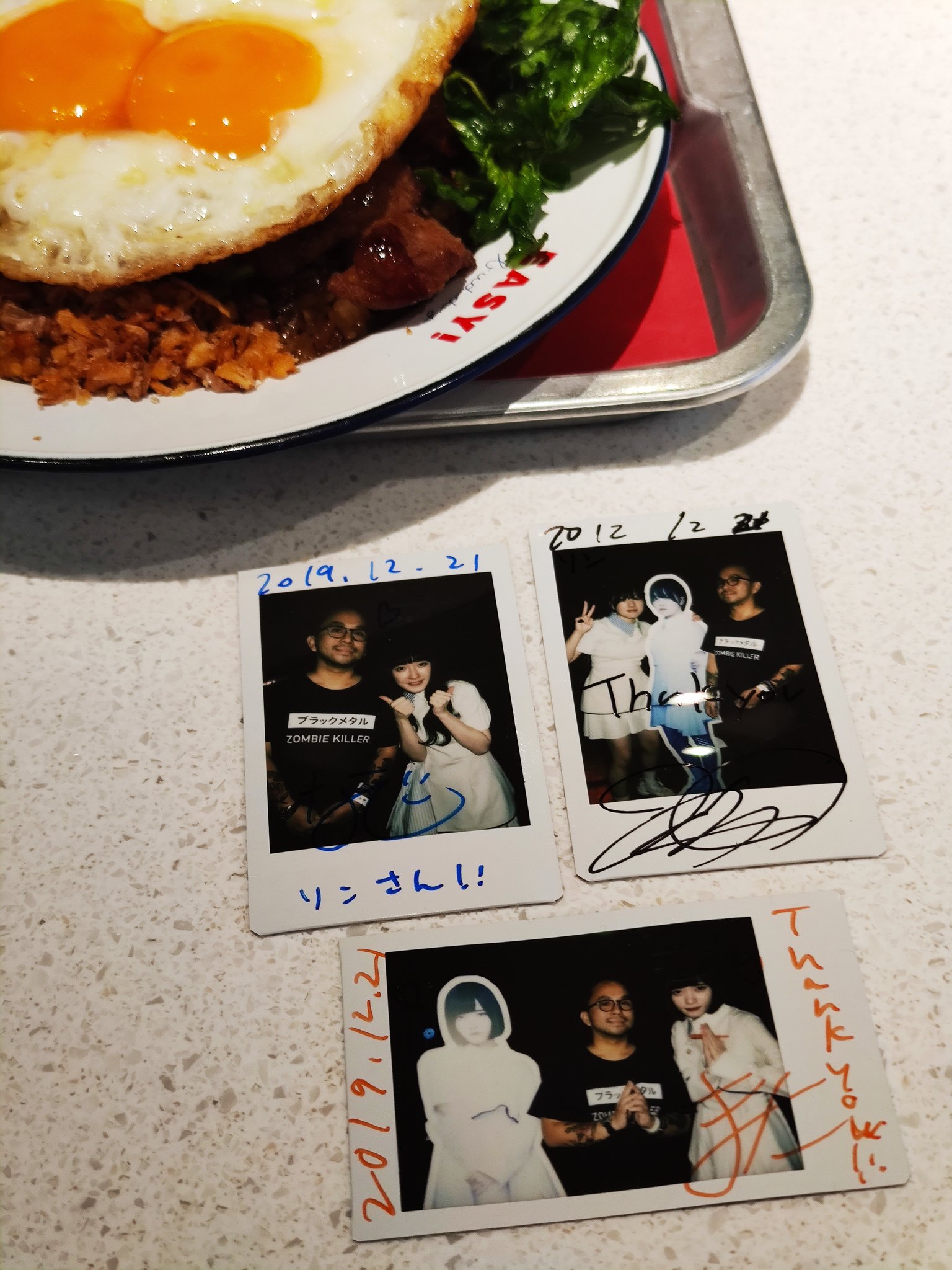 There was a food court in the building, and late lunch was enough time for me to decide if I would get that FEVER t-shirt. I did. I was told to pick a girl to hand it over to me. I pointed to one, and didn't ask her name. Her name, after a bit of research, was Pop.
#
The second show was at 3PM. It was only Yanamyu, their one-man live. Was front row again, right in the middle this time. Nade will be in her usual center position. She sounds as good as she is on the recordings. Mani and Ichika were superb as well. I've always liked how distinct they all are, but not to a point where the group balance becomes off. They did 15 songs, plus one for the encore. They performed new songs I couldn't have heard because I can't stream them from Shanghai.
One favorite moment on their live videos happen on No Known, marked at 2:48 below:
So much controlled power, perfectly executed. This time, not a video. Nade-chan was barely a foot away from me.
For the encore, they did Kanaderuha again. I don't remember cheering on any performance with so much vigor ever before.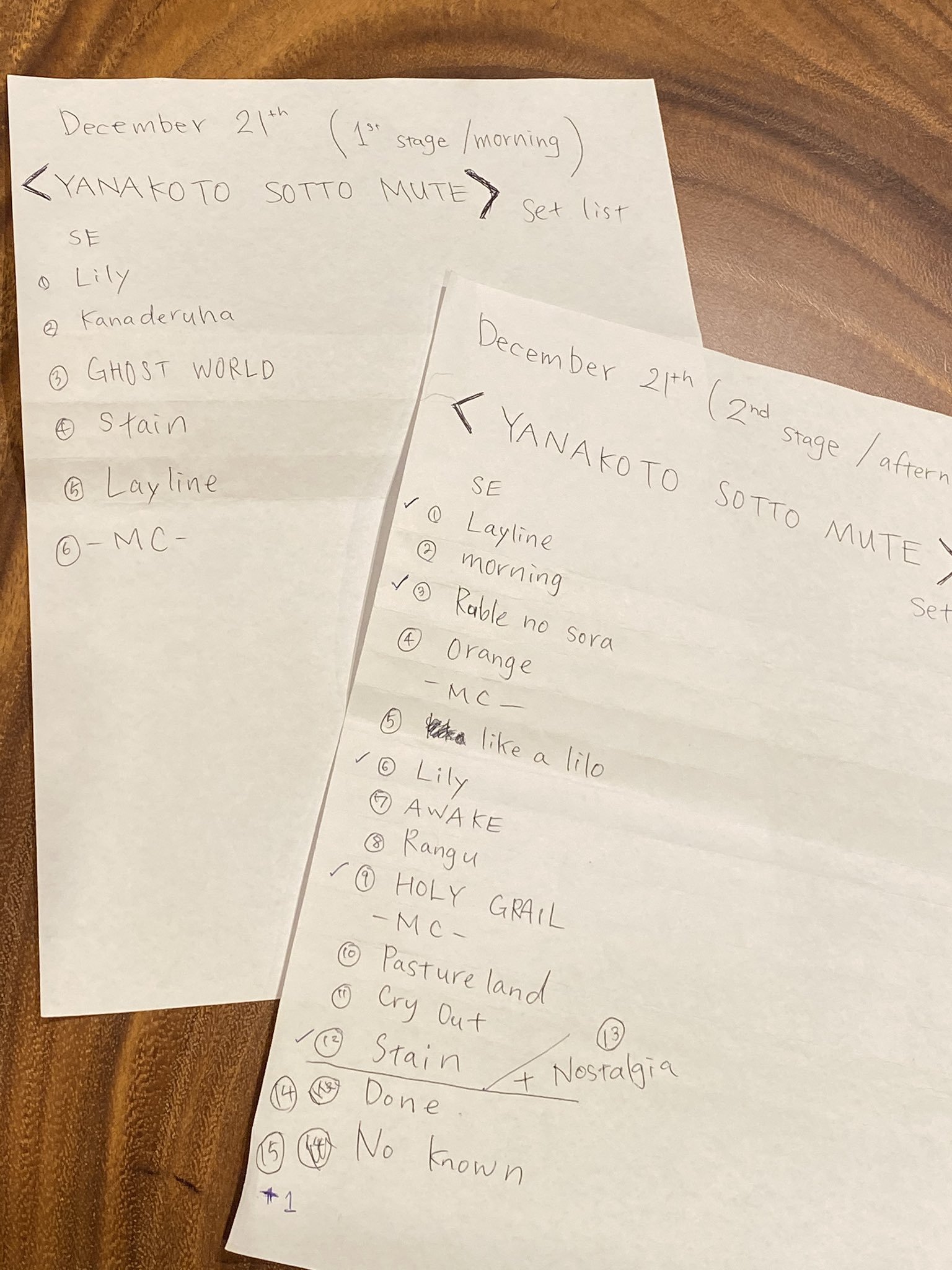 I forgot to greet Nade-chan happy birthday earlier. Not that I had an illusion that she'd remember that I forgot. It was just a reason I had to give myself, since I can't speak Nihonggo, and I did want to get one solo photo.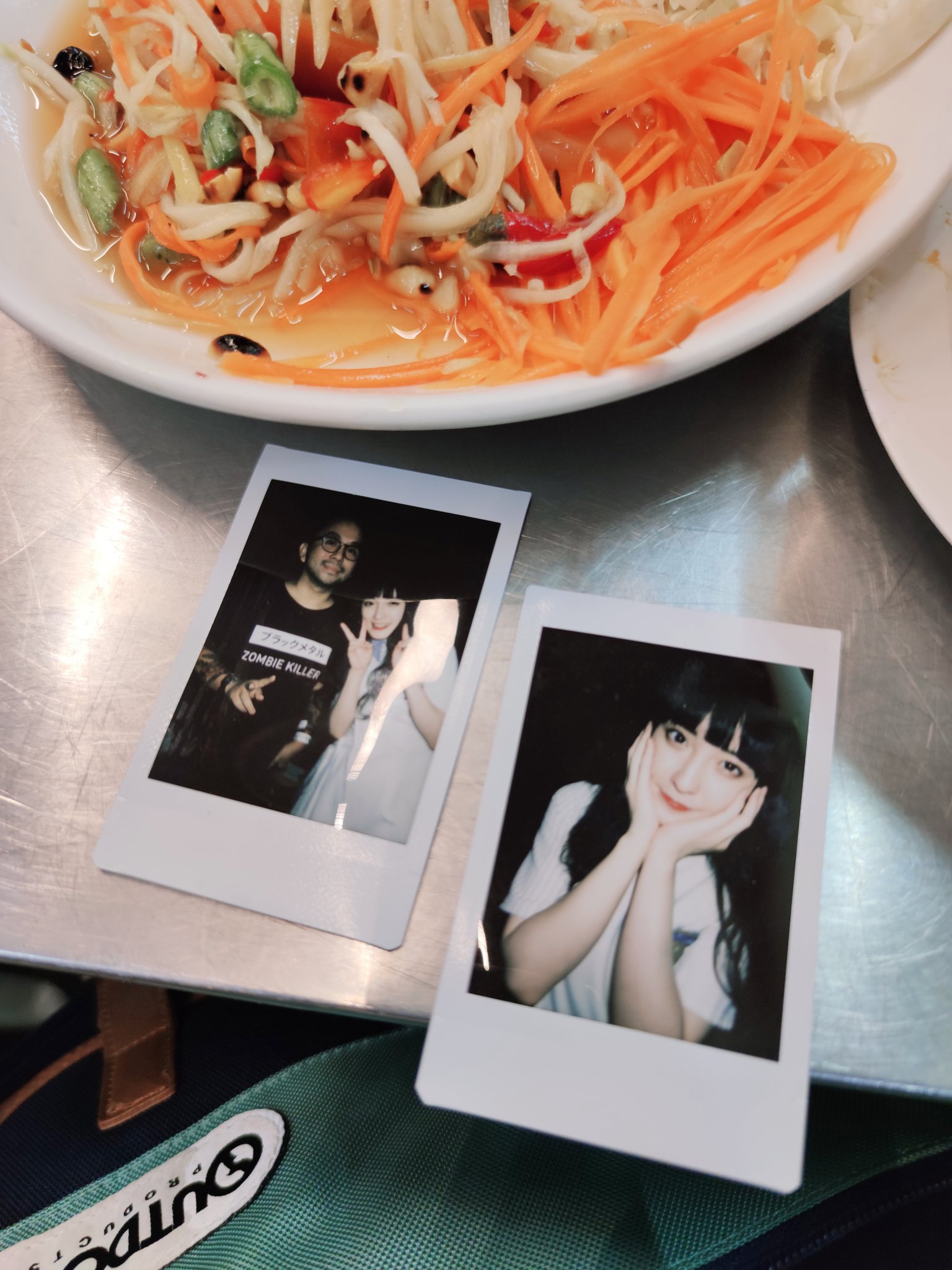 #
It was about a fifteen minute walk back to my hostel. I took a wrong turn, found a night market, and various restaurants, all which didn't really pique my interest. Not even Hooters. The Bangkok heat made me want to settle and rest the soonest time possible, before seeking out dinner.
Dinner was had at a Google Maps-recommended street restaurant, two minutes away from my hostel. I just had to pass by a 7-11, a Hindu temple, and its across the street. Most of the patrons where foreigners, only a handful were Asians. I still had time to back out -the only locals around appeared to be servers and passersby, never a good sign- but I didn't have the energy to do so. It was good enough for me that they had small, solo servings.
My Bangkok trip, my first, is now almost half over. My flight back is at 2AM, Monday.
So far, so good.
*Some photos here were posted by the concert organizer on their social media accounts.